Frédéric Abaziou
CIM®
Private Wealth Manager
ABOUT Frédéric Abaziou
I hold a Bachelor of Business Administration, Finance option, from the Université de Sherbrooke. I have also completed numerous courses offered by the Canadian Securities Institute, primarily in portfolio management methods, investment management techniques, options trading, derivatives and securities, and I hold the Chartered Investment Manager (CIM®) designation.
MY PROFESSIONAL BACKGROUND
Before joining the team as a Private Wealth Manager at Desjardins Private Wealth Management, I held the position of Business Development Director with Desjardins Group. Prior to that, I worked as an Investment Advisor with Desjardins Securities and also acquired valuable experience in various positions with major investment firms.
MY ROLE WITHIN YOUR ENTOURAGE
As a Private Wealth Manager, I am your main advisor. I therefore maintain a close relationship and daily contact with you. I have a perfect understanding of your needs and a broad picture of your financial affairs. When a specialist becomes involved, I make sure his or her action meets each of the goals set out in your financial plan.
I work closely with the various specialists in your support team. Instead of each of us working independently to manage a single aspect of your financial affairs, we consider your financial picture as a whole. That means we take care of the professional, private and family aspects of your activities. This coordinated management style enables us to obtain optimal results.
I am highly skilled in the various strategies and management styles we offer investors. Furthermore, I have a solid understanding of the investment fund industry and leading portfolio management companies, both nationally and internationally. I also possess extensive knowledge of capital markets and of the various investment tools available on the market.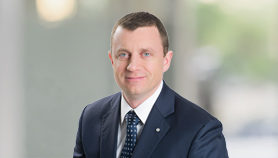 Frédéric Abaziou
CIM®
Private Wealth Manager