Sébastien Carpentier
CFA, CIPM
Private Wealth Manager
About Sébastien Carpentier
I hold a Bachelor of Commerce degree with majors in Finance and Accounting from McGill University in Montreal. I also hold the CFA (Chartered Financial Analyst) designation from the CFA Institute in the United States. This designation is given to investment professionals around the world who have successfully completed a rigorous and exhaustive three-year program on financial analysis and investment management.
My professional background
Before joining the Desjardins Private Wealth Management team in 2017 as a Private Wealth Manager, I held the position of Senior Compliance Advisor with Desjardins Securities. Active in the finance industry since 2011, I have held various positions specializing in investment and performance analysis. I have successfully completed many courses offered by the Canadian Securities Institute (CSI) and obtained the CIPM (Certificate in Investment Performance Measurement) designation from the CFA Institute in the United States.
My role within your entourage
As a Private Wealth Manager, I am your main advisor. I therefore maintain a close relationship and daily contact with you. I have a perfect understanding of your needs and a comprehensive view of your finances. When a specialist becomes involved, I make sure they meet each of your needs and your goals.
I work closely with the various specialists in your entourage. Instead of each of us working independently to manage a single aspect of your finances, we consider your financial picture as a whole. That means we take care of the professional, personal and family aspects of your finances. This coordinated management style enables us to obtain optimal results.
I am highly skilled in the various management styles and strategies we offer investors. Furthermore, I have a solid understanding of the investment fund industry and I am familiar with the leading portfolio management companies, both nationally and internationally. I also have extensive knowledge of the capital markets and of the various investment vehicles available on the market.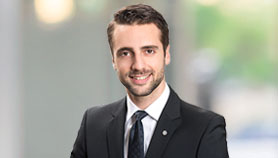 Sébastien Carpentier
CFA, CIPM
Private Wealth Manager