Mathieu Dubois
CFA
Private Wealth Manager
ABOUT Mathieu Dubois
I have a Bachelor of Business Administration from the Université du Québec à Montréal. I also hold the title of Chartered Financial Analyst (CFA) from the CFA Institute. I've completed many different courses in stock market and real estate investing as well as wealth management. I'm currently working toward getting my Financial Planner designation from the Institut québecois de planification financière and Certified International Wealth Manager designation from the Canadian Securities Institute.
MY PROFESSIONAL BACKGROUND
Over my career, I've held a variety of positions, including financial analyst, trader and portfolio manager. I previously sat on the investment committee for a specialized investment firm and managed an investment portfolio for the firm's corporate account. During that time, I also advised clients on managing their investment portfolios. Eventually, I came to realize that what I really love to do is advise clients. That's why I decided to join the Desjardins Private Wealth Management team in 2020—so I could focus completely on my clients as a private wealth manager.
My Role within your Entourage
As a Private Wealth Manager, I am your main advisor. I therefore maintain a close relationship and daily contact with you. I have a perfect understanding of your needs and a broad picture of your financial affairs. When a specialist becomes involved, I make sure his or her action meets each of the goals set out in your financial plan.
I work closely with the various specialists in your support team. Instead of each of us working independently to manage a single aspect of your financial affairs, we consider your financial picture as a whole. That means we take care of the professional, private and family aspects of your activities. This coordinated management style enables us to obtain optimal results.
I am highly skilled in the various strategies and management styles we offer investors. Furthermore, I have a solid understanding of the investment fund industry and leading portfolio management companies, both nationally and internationally. I also possess extensive knowledge of capital markets and of the various investment tools available on the market.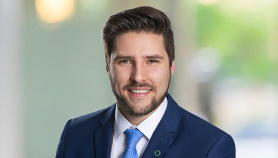 Mathieu Dubois
CFA
Private Wealth Manager