Martin Godin
B.B.A., F.Pl., CIM®
Private Wealth Manager
About Martin Godin
I have a bachelor's degree in business administration with a specialization in finance from Université du Québec en Outaouais and a financial planning certificate from the Université du Québec à Montréal. I've also earned the title of financial planner from the Institut québécois de planification financière and successfully completed the Canadian Securities Course (CSC), as well as the Conduct and Practices Handbook Course.
I hold the Chartered Investment Manager (CIM®) designation, awarded by the Canadian Securities Institute (CSI).
My professional background
I joined the Desjardins Private Wealth Management team in 2019 as Client Relations Director. In 2022, I became a Private Wealth Manager. Prior to that, I was a financial planner at Caisse Desjardins d'Amos for 10 years, I also worked as a personal finance advisor and a teller for large companies in the finance industry.
My role within your entourage
As a Private Wealth Manager, I am your main advisor. I therefore maintain a close relationship and daily contact with you. I have a perfect understanding of your needs and a comprehensive view of your finances. When a specialist becomes involved, I make sure they meet each of your needs and your goals.
I work closely with the various specialists in your entourage. Instead of each of us working independently to manage a single aspect of your finances, we consider your financial picture as a whole. That means we take care of the professional, personal and family aspects of your finances. This coordinated management style enables us to obtain optimal results.
I am highly skilled in the various management styles and strategies we offer investors. Furthermore, I have a solid understanding of the investment fund industry and I am familiar with the leading portfolio management companies, both nationally and internationally. I also have extensive knowledge of the capital markets and of the various investment vehicles available on the market.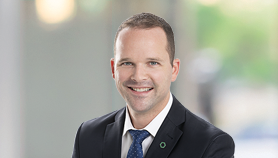 Martin Godin
B.B.A., F.Pl.
Private Wealth Manager