Pierre-Luc Lacombe-Brosseau
CIM®
Private Wealth Manager
about Pierre-Luc Lacombe-Brosseau
I hold a master's degree in economic science from Université du Québec à Montreal and a bachelor's degree in international studies with a concentration in economics and administration from Université de Montreal. I've received the Chartered Investment Manager (CIM®) designation from the Canadian Securities Institute, and completed the Canadian Securities Course and the Conduct and Practices Handbook Course.
MY PROFESSIONAL BACKGROUND
I started my career in 2007 in the Immigrant Investor Program at Desjardins Trust and in investment product administration for Desjardins Private Wealth Management. I joined the customer service team in 2013, where I held the positions of private wealth management assistant and sales and operations support advisor. In 2020, I took on a new advisory role helping wealth management clients, namely as account manager for Desjardins Signature Service and investment advisor for Desjardins Securities. In March 2022, I began my position as private wealth manager.
MY ROLE WITHIN YOUR ENTOURAGE
As a private wealth manager, I'm your main advisor. We'll work closely together and have daily contact. I have a perfect understanding of your needs and a broad picture of your financial affairs. When a specialist becomes involved, I make sure their work meets each of the goals set out in your financial plan.
I work closely with the various specialists in your support team. Instead of each of us working independently to manage a single aspect of your financial affairs, we consider your financial picture as a whole. That means we take care of the professional, private and family aspects of your activities. This coordinated management style enables us to obtain optimal results.
I'm highly skilled in the various strategies and management styles we offer investors. Furthermore, I have a solid understanding of the investment fund industry and leading portfolio management companies, both nationally and internationally. I also possess extensive knowledge of capital markets and of the various investment tools available on the market.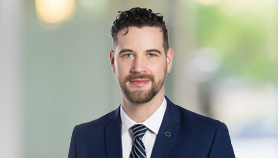 Pierre-Luc Lacombe-Brosseau
CIM®
Private Wealth Manager