Jimmy Verdule
B.B.A, F.Pl., CIM®, FCSI®
Private Wealth Manager
about Jimmy Verdule
I have nearly 15 years of experience in finance. I have a bachelor's degree in business administration with a specialization in finance, and I'm a financial planner, a Chartered Investment Manager (CIM®), and a Fellow of the Canadian Securities Institute (FCSI®). I have taken the CSI Canadian Securities Course and the IIROC Conduct and Practices Handbook Course.
MY PROFESSIONAL BACKGROUND
Before joining the Desjardins Private Wealth Management team as a private wealth manager in 2017, I held a variety of positions, including financial security advisor in a major institution. I have also been a business development manager and a financial planner at a major Canadian bank and at Desjardins, as well as a wealth management advisor and financial planner at a major private wealth management company.
MY ROLE WITHIN YOUR ENTOURAGE
As a Private Wealth Manager, I am your main advisor. I therefore maintain a close relationship and daily contact with you. I have a perfect understanding of your needs and a broad picture of your financial affairs. When a specialist becomes involved, I make sure he or she meets each of the goals set out in your financial plan.
I work closely with the various specialists in your support team. Instead of each of us working independently to manage a single aspect of your financial affairs, we consider your financial picture as a whole. That means we take care of the professional, private and family aspects of your activities. This coordinated management style enables us to obtain optimal results.
I am highly skilled in the various strategies and management styles we offer investors. Furthermore, I have a solid understanding of the investment fund industry and leading portfolio management companies, both nationally and internationally. I also possess extensive knowledge of capital markets and of the various investment tools available on the market.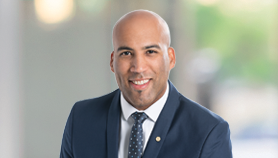 Jimmy Verdule
B.B.A, F.Pl., CIM®, FCSI®
Private Wealth Manager